Back
Shutters were originally used to protect homes from harsh elements or provide shade. Today, they are more commonly installed as an accent, to add color to exteriors and increase curb appeal. This shift from functional to decorative use has diminished the authenticity of many home designs, leaving many to wonder: Which shutters capture the authentic look of popular home styles?
Here are a few guidelines to consider:
Craftsman
The appeal of Craftsman-style homes is that they can be customized to create truly one-of-a-kind designs. These homes take pride in their high quality and craftsmanship, but also have a humble simplicity with clean lines and timeless architectural details. Craftsman-style homes have experienced a resurgence because of their versatility and emphasis on quality.
Although Shaker shutters are one of the most frequently used styles for Craftsman homes, this type of home works with virtually any shutter style. Board-and-batten shutter designs are popular for exteriors that have more rustic details, while flat and raised panel options offer a clean look similar to the Shaker style.
Urban Farmhouse
With its down-to-earth comfort, the Farmhouse style is regaining popularity among homeowners who seek the charm of country style with modern touches. These homes often feature wraparound porches, vertical siding similar to barn house siding, and minimalist design features. Shutters add an interesting architectural detail on an otherwise simple exterior.
Board-and-batten shutters capture an authentic Farmhouse style and create an inviting country exterior. They have a range of style options, including spaced or joined boards, and two or three cross battens. For a less rustic take on the Farmhouse style, louvered shutters are another popular option due to their versatile, traditional design.
Colonial
A true American classic, Colonial homes reflect the earliest home styles of the first European settlers. These homes feature square, symmetrical designs with refined, formal details like dentil moulding.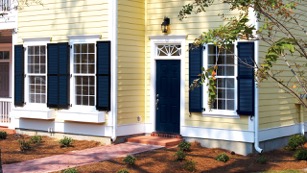 Traditional Colonial shutter styles vary across regions due to differences in climate. Colonial homes in the north are often equipped with paneled shutters, which were originally used as a defense against harsh elements like wind and snow in the New England region.
Southern Colonial homes, on the other hand, typically feature louvered shutters. The angled slats of louver shutters helped keep the interior of the home cool by blocking sunlight while allowing airflow. Many Southern regions, such as Charleston, S.C., honor the traditional design and feature classic louvered shutters, both in paneled louvered and full-length styles.
Cape Cod
Inspired by New England Colonial style designs, Cape Cod homes feature clean, symmetrical designs and dormers. However, these home styles are less formal and have cozier, more cottage-like floor plans and exteriors.
Homeowners can achieve an authentic Cape Cod design with any shutter style. These homes often feature raised panel, louvered, and board-and-batten shutters. Still, many homeowners are shifting toward paneled shutters because they do not collect dirt as easily as other styles and are less susceptible to nuisances like insect nests.
Atlantic and Mid-America shutters are designed with authenticity in mind, with architecturally accurate designs and more depth and dimension. View the full line of Mid-America shutters and Atlantic shutters to capture the right look.